WHAT YOU SHOULD KNOW
NAME:
Thomas Cain
OCCUPATION:
Caseworker for the disabled
MODEL RAILROAD AFFLIATIONS
Central Indiana Division/MWR/NMRA – Past Superintendent
Member of:
Santa Fe Railroad Historical and Modeling Society
MODELING THE SANTA FE
LOCATION:
Eastern Illinois, Joliet to Streator
PROTOTYPICAL INFORMATION
This model railroad depicts the Santa Fe Railway from Joliet, Illinois to Streator,

Illinois.  This section of the railroad has two tracks called Main One and Main Two.  Since the Santa Fe Railway runs in an East to West direction the North track is called Main One.  The alignment from Joliet to Pequot uses the Santa Fe mainline and track that was shared and annexed from the Gulf, Mobile, and Ohio.  The alignments are quite close to each other but not exactly what might be called "double track."  The trackage from Pequot to Streator though is all Santa Fe two track arrangement that is set right next to each other.  There is a grade crossing with the former Rock Island track at Joliet.  Both the Metra commuter line and the Iowa Interstate railroad now use this track.  There is also a grade crossing and junction of the Norfolk Southern, former Conrail railroad at Streator.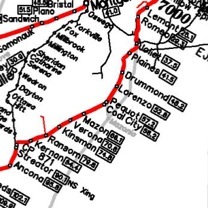 According to the 1992 Santa Fe CLIC book, Industries served by the railroad traveling west from Joliet include:  (Industries to be modeled are indicated in red)
Mobil Oil at Drummond

Stephan Chemical at Millsdale

Dow Chemical at Lorenzo

Glidden Paint at Lorenzo

Exxon Chemicals at Lorenzo

House track for local industry in Coal City

CoOp at Mazon

Kendall-Grundy Feed Storage at Mazon

Farmer's CoOp at Verona

Ransom Fertilizer at Ransom

Owens-Illinois at Streator

Thatcher Glass at Streator

Illinois Fruit at Streator
Spurs are also located at Kinsman and Kernan
Crossovers on this section of the railroad are at:
Double crossover at Joliet

A single crossover located at Lorenzo that is only used by right of way maintenance equipment.

Double crossover at Pequot

Single crossover at Mazon

Double crossover at Verona

Single crossover at Ransom

Single crossovers at east end of Streator